Barbecue Islands

Barbecue Islands have become one of the most popular items in home building in the last few years. You can now get the same functionality and cooking options outside that you would find in a standard indoor kitchen. For example, you can now get stainless steel cabinets, professional grade barbecue grills, outdoor refrigerators, warming drawers, storage drawers, beverage centers, blenders and so much more.
 Island Configuration Choices
When it comes to the design configuration of your barbecue island you're only limited by your imagination and of course your budget. The Las Vegas Outdoor Kitchen is designed to help you prepare for your custom build. Below are some of the most popular outdoor barbecue islands designs we've built.
Straight Islands
[caption id="attachment_226" align="alignleft" width="300"]
4600 Series Barbecue Island Design with Barbecue Grill, Paper Towel Holder, Single Access Drawer and Access Door.[/caption]
Straight islands are great for limited space and most Las Vegas residence know that our properties are sometimes a little skimpy. The addition of a table is another great way to maximize the limited space. Our smallest straight island we produce is 5Ft. and is big enough to fit a 30″ or smaller Barbecue Grill and a side burner. Larger straight islands can have social bars and tables built-in (like this design to the left).
L-Shaped Islands
[caption id="attachment_210" align="alignleft" width="300"]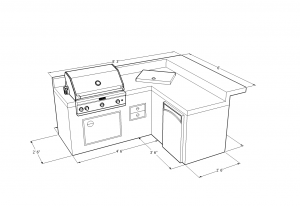 4200 Series Barbecue Island with Access Door, Double Drawer, Refrigerator and Barbecue Grill[/caption]
One of the great characteristics of the L-Shaped island is it's ability to bring the guests at the social bar closer to the cook. With the help of a Nevada Outdoor Living professional, we can design your custom L-Shaped barbecue island. Call us today to speak to one of our Outdoor Living Specialists. Together, we'll help you to choose a custom Design, Barbecue Grill, Countertop Material, Siding, and all the Professional Accessories available to help you realize the Outdoor Barbecue Island of your dreams.
The primary item for your barbecue island is the barbecue grill — don't forget that what makes it a kitchen is that you have a place to cook. The barbecue grill is your center piece in which everything revolves around. We have a vast selection when it comes to outdoor grills and you can go with either Liquid Propane (LP) or Natural Gas (NG). You can get something as simple as a freestanding barbecue grill with a cart model that has 3 burners and a rotisserie kit, or you might hire the guys here at Nevada Outdoor Living to design you an elegant custom outdoor barbecue island with all bells and whistles.
[caption id="attachment_218" align="aligncenter" width="546"]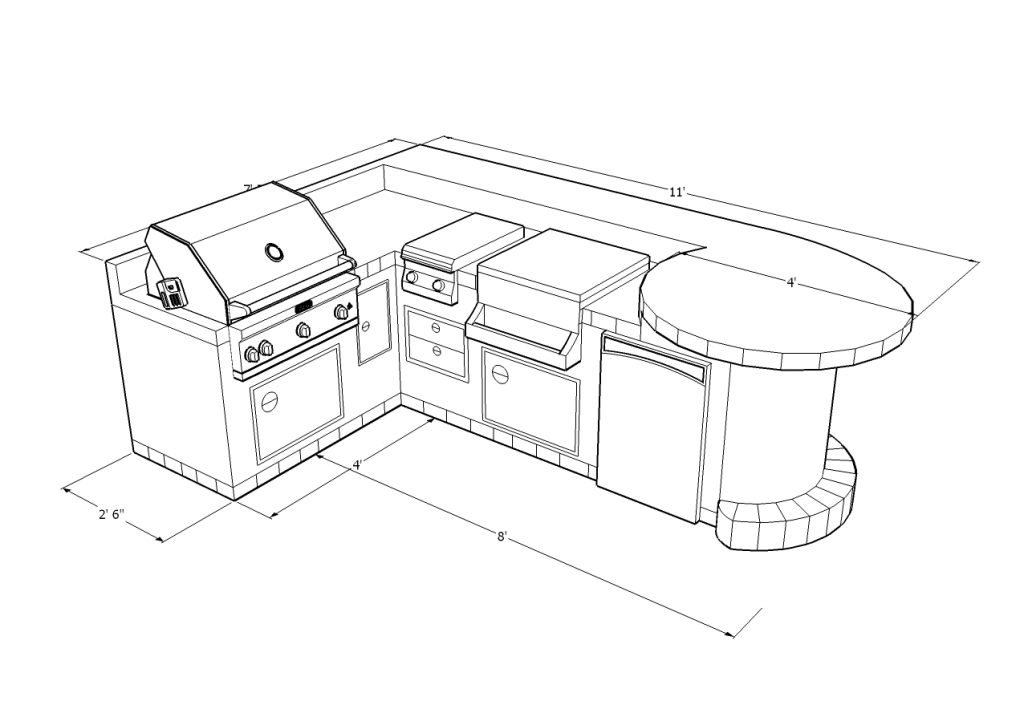 5100 Series L-Shaped Barbecue Island Design with Barbecue Grill, Side Burner, Ice Chest w/ Speed Rail, Refrigerator, 2 Access Doors, Double Access Drawers and Paper Towel Drawer.[/caption]
A BBQ grill is by far the most important product for your barbecue island, but there are other outdoor cooking products and island options to consider such as:
The Outdoor Fireplace. An outdoor fireplace can easily be transformed into an area outside where you can relax and enjoy your cooked meal. Enabling you and your guests to congregate and enjoy each others company.

More casual than a fireplace is a Fre Pit that can also be used to cook — with a minor adjustment can double as a rotisserie for open flame cooking. A Fire Pit can also act as a great focal point in your outdoor living area.

Another way of cooking outside is to include an Outdoor Wood Fire Pizza Oven in your kitchen. The outdoor oven that you "may" want to consider is more of a traditional oven—a brick or stone pizza oven kit that we can build into your barbecue island, or it can be built-in as a stand-alone element.
Some additional options and considerations for your custom barbecue island and outdoor kitchen area include:
»Like an indoor kitchen, your outdoor version might include countertop space and storage area's with access doors and drawers. Material options for your custom countertops include Granite, Marble, Tile, and multiple different types of Decorative Concrete.

»The Social Bar, acting as a counter space and an area that can be used to eat on. Usually when you're planning for an social bar counter, you want to make sure that it's at least 15″ deep and approximately 24″ wide per person.

»Access Doors and Drawers need to be waterproof in an outdoor kitchen, that's why we sell accessories made of stainless steel. Stainless steel access doors, drawers, sideburners, warming drawers, cutting boards and more that match the grills we sell.

»The outdoor kitchen wouldn't be complete without a sink. Our outdoor sinks are professionally installed and connected to the home's water supply. Good choices for your outdoor sink would be either stainless steel or ceramic.

»You might want to consider a type of cover such as a Pergola or an Equinox Louvered System. You can definitely have a shelter over your kitchen area, but we wouldn't recommend having a ceiling or shelter over the grill area with a hood system.