Outdoor Kitchens

The Las Vegas Outdoor Kitchen is here to help you realize the Outdoor Kitchen of your dreams. Our primary goal is to assist you in the  process of research, planning, design and procuring of contracted services. We're your online resource for Outdoor Kitchens, Barbecue Islands, Barbecue Grills and Accessories. We'll help you find exactly what your looking for based on your individual style and budget.
We'd like to first take you through a gallery of beautiful Outdoor Kitchen photo's that will help you in establishing your "likes" and "dislikes" in Outdoor Kitchen design. This entire collection of Outdoor Kitchens has been built by the one and only Nevada Outdoor Living. Contact us today for a free in-home consultation.
Outdoor Kitchen Options
When it comes to your outdoor environment, the options are endless and it helps to know what you want as far as aesthetics, functionality and sizes go. Here are just a few questions that you can an answer to get this creative process flowing.
Who We Are
We are Nevada Outdoor Living and it's eCommerce counterpart Nevada Outdoor Living's BBQ Online Showroom and when it comes to  Barbecue Islands, Outdoor Decor, Barbecue Grills and Accessories we're Nevada's #1 resource for luxury outdoor products.
Understanding the Difference Between Need & Want
Do you grill often, and for how many people? – This question will help you estimate Barbecue Grill Size and the Quality of the Grill
Do you host large parties where your guests run out of seating and end up gathered around the Barbecue Grill while they socialize with you? – This question helps you realize your seating arrangements and your guests natural tendency to gravitate towards the host of the party.
Are you making numerous trips inside your home to grab food, drinks, and refrigerated products? – Is an outdoor beverage center, refrigerator and/or sink necessary or are these unimportant to you?
Would you like to cook more elaborate foods than just plain old Hamburgers and Hot Dogs? – Would you want a Rotisserie, Sear Zone, Deep Fryer, Griddle, Side Burner and/or Power Burner?
Do you cook well into the night and have late night parties? – Do you have a need for a grill with lights and or an independent lighting source such as electric lights, gas fire pits or outdoor fireplaces.
Do you use your backyard in Summer, Winter or both? Is there a need for heating or cooling systems for your guests.
Is an Outdoor Kitchen exactly what you need, or is it just overkill? Now that you've honestly answered these questions I'm sure you have a pretty good idea of what is right for you.
Outdoor Kitchen Area
The barbecue island is of necessity, but what about a combined seating area for your guests. Thus turning your outdoor cooking center into a combined social bar/eating area. This is just an option that you're sure to arrive at after answering just a few more questions below.
How many people do you plan on entertaining in your Outdoor Kitchen area? – This type of question provokes thoughts pertaining to the desired seating area(s) you plan to include. Such as a Dining Table, Social Bars, Conversation Height Tables, Fire Pit Tables and so forth. How many do you plan to seat before breaking out the plastic chairs?
What other types of furniture, if any will be present? – Couches, Lounge Chairs, High Chairs, Sectionals or others. This is a great time to start designating sections of your outdoor area. How much space do you really have?
Will your guests be eating indoors, outdoors or both? This is a tough one but should be addressed.
Outdoor Kitchen Budget
[caption id="attachment_128" align="alignleft" width="300"]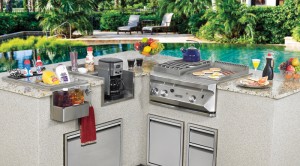 Barbecue Island with Twin Eagles Barbecue and Accessories.[/caption]
If you're seriously thinking about a new Outdoor Kitchen build or re-design then you're seriously thinking about the budget you have for the project. This is precisely the reason why the Las Vegas Outdoor Kitchen exists. We wanted to offer a resource center where research and sales are separate. While we would still like you to use our services and purchase your Island Accessories from us, it's not required. We are professionals here and will not be recommending shoddy Barbecues or Island equipment to you. We feel the same way as you do, if your putting it in your backyard, you want it to last more than year. We have included a table below of Barbecue Grill Pricing and Island Accessory ranges. This will help you get an idea of how much individual accessories, grills and/or their complete packages cost. Keep in mind that you end up getting far better discounts when you buy complete sets which include the Barbecue Island, Barbecue Grill, and the accessories for the Island.
Price Ranges
Coming Soon!